Lessons for Cadavers
, 2022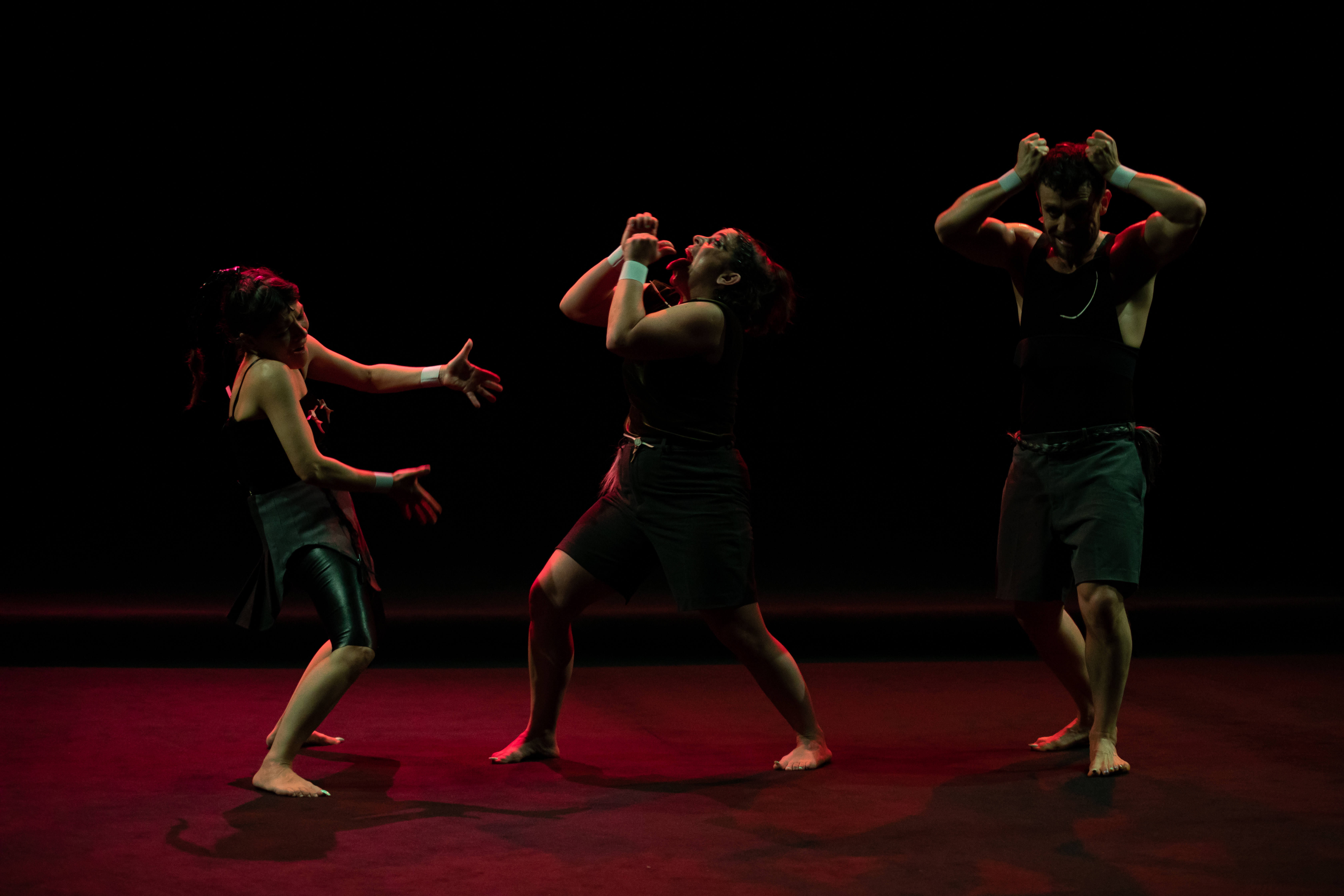 en
We live in the midst of horror and we're used to it. Forests on fire, people freezing in their houses without heating, families running across the border while others go shopping. Lessons for Cadavers inspires in the physical language of horror – its exaggeration and hyperbole – to reflect the living dead of the present. Death here is a magical and grotesque realm inhabited by strange forms of life; a transformation zone. Three dancers move on stage through panic and wonder, violence and fragility.
The political backdrop in the Brazil of recent years and the far right's brandishing of fear like an arm to govern bodies, hearts and minds are at work in this production. Moura dissects how being trapped in a necropolitical system makes us living dead.
pt
Vivemos no meio do horror e estamos acostumados a isso. Florestas em chamas, pessoas congelando em suas casas sem aquecimento, famílias correndo através da fronteira enquanto outras vão às compras. Lições para Cadáveres inspira-se na linguagem física do horror - seu exagero e hipérbole - para refletir os mortos vivos do presente. A morte aqui é um reino mágico e grotesco habitado por estranhas formas de vida; uma zona de transformação. Três dançarinos sobem ao palco através do pânico e da maravilha, da violência e da fragilidade.
O pano de fundo político no Brasil dos últimos anos e o brandimento do medo pela extrema direita como um braço para governar corpos, corações e mentes estão em ação nesta produção. Moura disseca como ficar preso em um sistema necropolítico nos torna mortos vivos.
What does the cadaver say to us?
by Maikon K
The dead speak, the dead govern countries, the dead go shopping, the dead have sex. The cadaver is standing.
Facing the cadaver, our senses go into shock. We have to hide the cadaver, make it up, bury it, place it out of our view. It interrupts the continuity of the narrative. The cadaver throws us into an abyss of fragility and impotence. The cadaver is a mirror. The most obscene mirror. On the way to decomposition and disappearance. The cadaver is us.
As precarious beings, we walk on an extended rope of anguish. Cells renew themselves at a speed that our ideas cannot keep up with. In a world in constant transformation, where can we find support? What knowledge will bring us solace? What is the meaning of this individual existence that will soon be extinguished?
Everything that resists change goes into paralysis. The cadaver follows, clinging to the belief that it must go on.
Around us, death emits its signals. According to ancient Tibetan teachings, dating back to the 8th century, it is possible to perceive in the body and in the environment signs that death is approaching for a person. And what signs indicate that the society is agonizing? What needs to die for new forms to thrive?
Lessons for Cadavers is a macabre arena, built out of slices of everyday horror. The rigidity of belief systems, the panic that freezes us static, the bones piled in the basements of history, the oppression emanating from a superior power. Horror and ridicule: the opening and closing of a single heart.
In this piece, the choreographer Michelle Moura continues her investigation of artificiality and hyper-expression, asking herself what sustains the apparatus of a language that is learned, reproduced, and becomes reality through bodies. To what extent does every language struggle against the dissolution of death? What forces animate or annihilate a body and a society? The choreography composes to decompose, draws with precision until it deforms. Ghost-gestures echo and exorcise meanings. Like a teacher in front of the class, a priest in their pulpit, a politician at a rally, these beings try to cling to something concrete, strive to reassert meaning, but are haunted by something they cannot control.
Death, older than the earth, walks among us and laughs: no form will triumph. Every mask is an effort that will dissolve.
We can only let death do its job. We hand over to it our disenchantment and weariness, the chains we have dragged, all the worthless things we have accumulated and held in our hands. And maybe then we will have clean eyes, like the child that has just been born, receiving the world with all the senses open and free. Killing that which silently consumes us. The mercy of death will then make us know life: with the mouth open, unable to say a single word. Muted. Possessed by this incomprehensible force, full of beauty and horror. The worms. The banquet. The feast. The true orgy. The only owner of everything: the Earth. That spins. That spins. That spins.
Credits
Conception, choreography and artistic direction: Michelle Moura
Creation and performance: Clarissa Rêgo, Jorge De Hoyos, Michelle Moura
Dramaturgy: Maikon K
Music and sound: Kaj Duncan David
Light and stage: Annegret Schalke
Costume and make-up: Thelma Bonavita
Artistic collaboration: Nina Krainer
Seamstress: Luciana Imperiano
Production management: ehrliche arbeit - freies Kulturbüro
International Distribution: Something Great
A production by Michelle Moura in co-production with SOPHIENSÆLE, deSingel and Something Great.
Funded by the Berlin Senate Department for Culture and Europe and Fonds Darstellende Künste with funds from the Federal Government Commissioner for Culture and the Media within the program NEUSTART KULTUR.
With the support of ÉTAPE DANSE, a network of the fabrik Potsdam, Institut Français Deutschland/Bureau du Théâtre et de la Danse, La Maison CDCN Uzès Gard Occitanie, Théâtre de Nîmes and Mosaico Danza - Interplay Festival Turin. With the kind support of the French Ministry of Culture/DGCA, Landeshauptstadt Potsdam, Fondazione Piemonte dal Vivo, Lavanderia a Vapore Torino and KODA Kultur.
Residencies at PACT Zollverein, fabrik Potsdam and Théâtre de Nîmes.
Acknowledgements: Mateusz Szymanówka, Atalya Tirosh, Elisabete Finger, Nics Kort, Annette David, Nina David.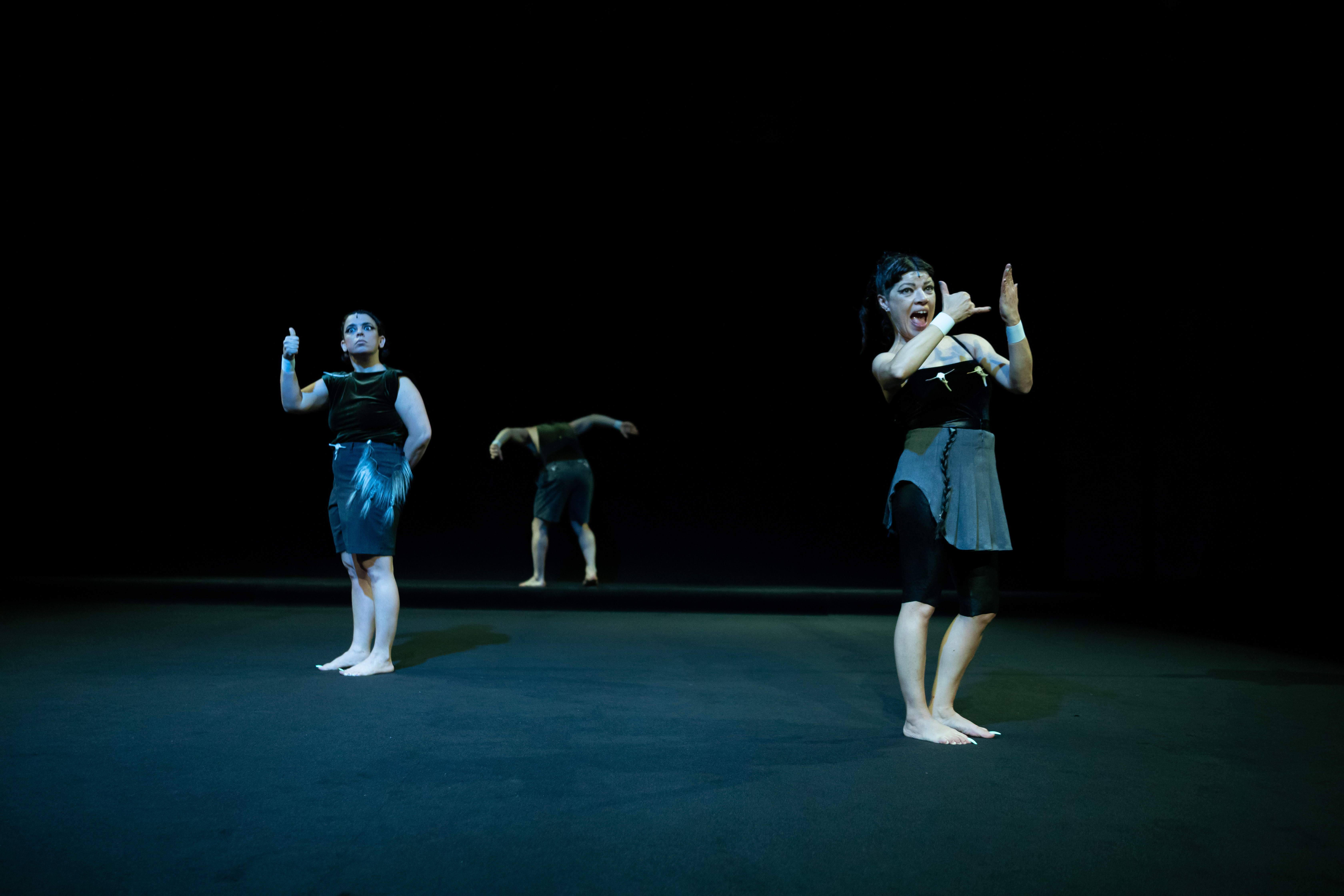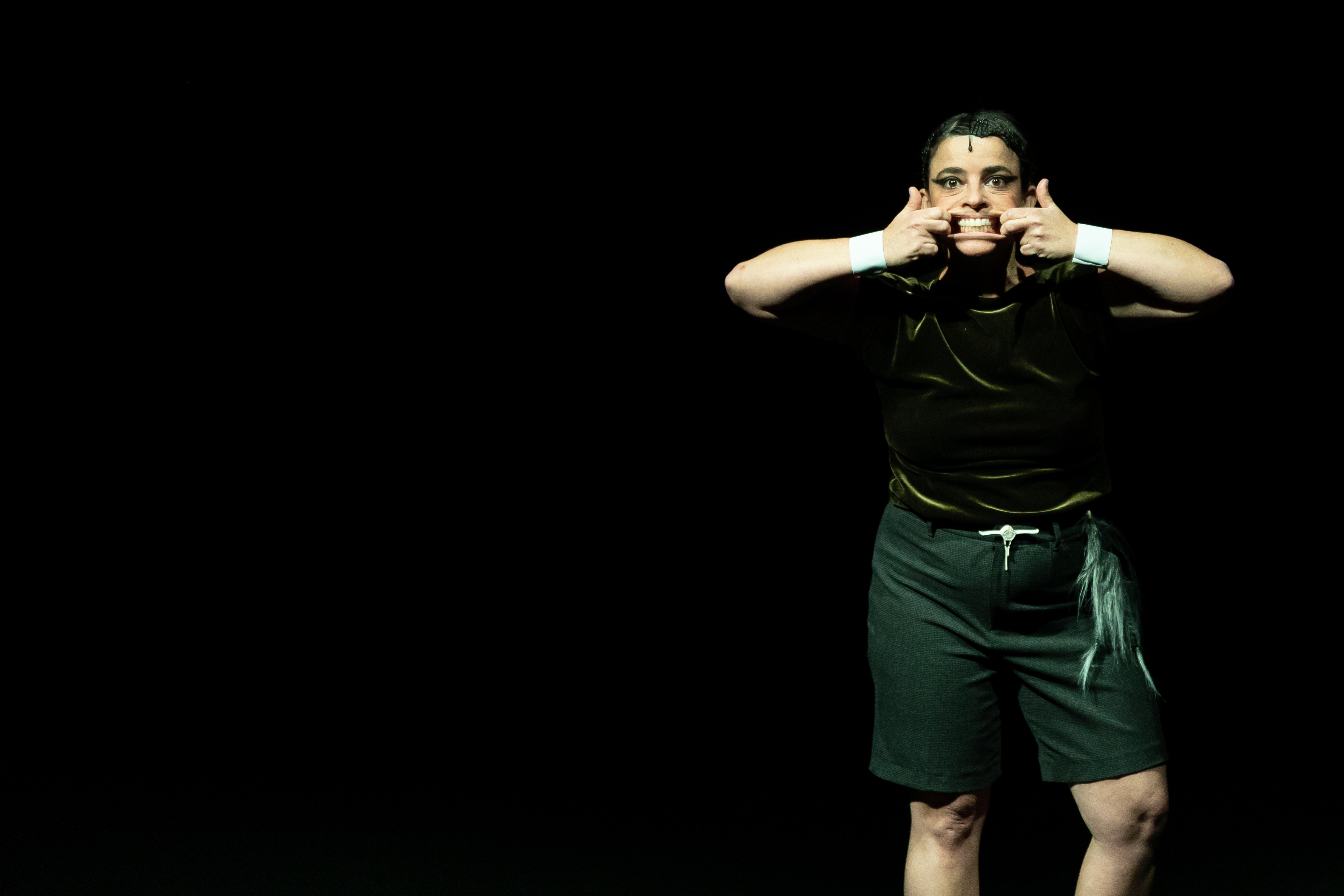 Festival Santarcangelo, IT
Actoral Festival, Marseille, FR.
Camping, CND Centre National de la Danse Pantin, FR.
Lessons for Cadavers, premiere